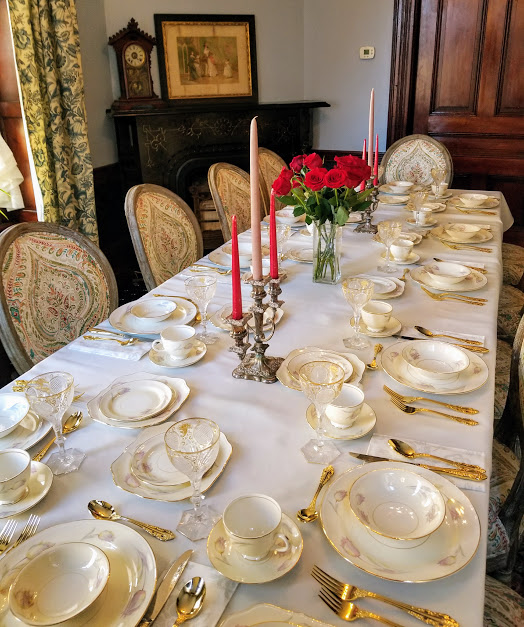 Our facilities also allow for intimate closed door events, such as business meetings, showers, dinners, tea parties, and other important gatherings. We love to cater to your distinctive tastes to make your experience here unique. See our sample menu's for ideas regarding serving up the best for your event. Arrangements can be made by speaking with the innkeeper.
Please let us know at the time of your reservation if you would like to add any special treatments to your reservation. We hope to make your occasion have a little extra flare. An added personal touch can make your occasion. Please consider high quality food items such as chocolate covered strawberries, cheese platter, fruit platter, home-made cookies, desserts, or services such as a drawn bubble bath with essential oils a bouquet of flowers, a warmed bath robe, and song to arose old memories.
Menu of special amenities:
These packages may be added at the time of reservation or afterward. Kindly offer as much advanced notice as you can, so we can devote our attention to your needs. You may request to add the follow packages to your reservation for the charge indicated:
Bath Packages: We draw your bath water and deliver to your room the following to add a touch of elegance:
Bubble bath – a small glass; selections may vary 5.
Essential oils – added to your water; selections vary but may include lavender, tea tree, mint, eucalyptus, rosemary etc. 5.
Epsom salts – a cup 5.
Warmed bath robe -We warm your robe and deliver to your room during regular service hours. 5.
Food packages: We can prepare additional food items at your request and serve them to you either in your suite or in one of our public rooms as required. We gladly offer gluten free, low sugar, and other dietary restrictions to respect and cater to your health needs. Everything we offer is made fresh for you and your party. Kindly give us notice the prior day for tea time treats or other snacks/ meals as needed. For gatherings requiring larger or more sophisticated meals or special parties we can make arrangements to host your unique occasion with about a two week notice.
Afternoon tea for two – A pot of tea selected from available offerings, with a plate of savory biscuits or cookies fresh and exclusively made for you. Delivered to your suite or public area as requested. 25.
Chocolate covered strawberries – These will be far healthier than what you can get commercially. We make our own chocolate from scratch! Therefore we can create a mix that is very sweet, bitter, milk, dairy free, white chocolate or with other additional ingredients per your request. No chemicals, no fake stuff! We will offer you organic berries when available. An 8 oz. plate of hand dipped berries. Delivered to your suite or public area as requested. 20.
Mini Cake – Celebrate a birthday, special occasion, or just have some cake. Baked per your requested flavor. One 4" round, three-layer mini cake serves two plus. This is elegantly plated and served to you in your suite or public area as requested. Chocolate or vanilla cake with frosting filled layers. 20. Additional flavors and fillings would be additional cost.
Special touches for any occasion:
Bouquet of flowers – Would you like to save yourself the trip or trouble of ordering or arranging flowers for your loved one? Let us do it for you. Let us know what your budget is and we will arrangements for an awesomely prepared floral bouquet from a local shop to be delivered to your suite or we can create and in house display based on your choices. Long stem roses, mixed bouquet, tussie-mussie etc.
Song serenade – The innkeeper would be pleased to offer you an early bird wake-up call with a song, or an evening serenade with a classic of your preference. As with anything that is custom; please consider advanced notice, so the music can be prepared ahead of time. Bring that romance, comic element, and unity of old friends together with a song.
It is a pleasure to help make your travels as smooth and as pleasurable as possible, so kindly inform us if there is anything we can do to add some ease and extra joy to your business or pleasure time.